Product Update
The M10 Scope Rings have been discontinued and replaced by the M-BRACE scope rings.  If a size is shown as in stock we still have some and it can be ordered, other sizes are out of stock and we will not be making more.  Spare parts are still available. 
Overview
American Rifle Company's M10 Rings represent the standard against which other rings are measured.

Scope ring height is from optical center line to top of rail.

Each ring is 21mm (0.83") in width.

A set of 34mm diameter, 28mm height rings weighs 6oz.  Weight varies by diameter and height.  

Designed to fit Picatinny (MIL-STD-1913) rails.  

Proudly engineered and manufactured in the USA.
Details
Even under the heaviest recoil, M10 Rings hold firmly without marring or indenting the scope. These uniquely split rings maintain reticle alignment during scope installation while their low profile leaves the shooter with a clear view of the turrets.
M10 Rings feature a crowned-rail interface which precisely and correctly engaged rails, even those which fail to meet Mil and STANAG specification. The result is excellent return-to-zero performance.
Extremely strong and light-weight, M10 Rings are CNC machined from 7075 aluminum alloy and anodized for excellent corrosion resistance and a matte-black finish.
Stainless steel hardware is used throughout and includes a high strength 410 stainless cross bolt.
The 21mm (0.83″) width and single recoil slot engagement offers more eye-relief adjustment than our previous models.
Recommended torque for both rail clamp and scope clamp screws is 5.6-6.2 Nm (50-55 in-lbs).
Available Sizes and Weight
Available sizes with weight (ounces) and mass (grams).  Numbers are for a complete set weighed on a scale with 0.1 ounce resolution.  
Height is defined as optical center to top of rail, therefore larger diameters are limited in lowest available height.
Larger diameter sizes may be similar in weight to smaller diameters because the height is defined as the optical center to top of the rail.  Therefore as the diameter increases the amount of scope ring material between the bottom of the scope tube and the rail decreases.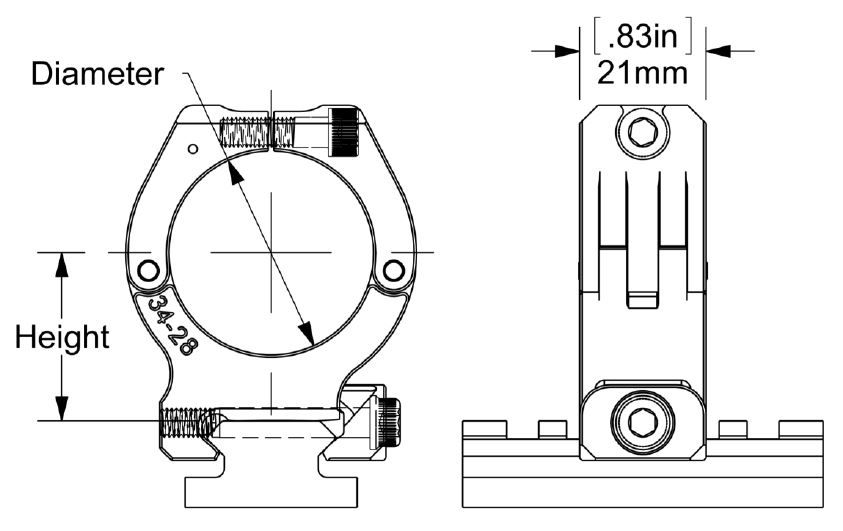 1" Dia
30mm Dia
34mm Dia
35mm Dia
36mm Dia
40mm Dia
36mm Height
(X-High)
5.6 oz
459 g
5.9 oz
167 g
6.0 oz
170 g
6.0 oz
170 g
6.1 oz
173 g

6.3 oz
179 g
32mm Height
(High)
5.4 oz
153 g
5.7 oz
162 g
5.8 oz
164 g

5.8 oz
164 g
5.9 oz
167 g
6.3 oz
179 g
28mm Height
(Med)
5.1 oz
145 g
5.6 oz
159 g
5.7 oz
162 g
5.7 oz
162 g
5.8 oz
164 g
5.8 oz
164 g
24mm Height
(Low)
5.1 oz
145 g
5.2 oz
147 g
5.3 oz
150 g
5.3 oz
150 g
5.3 oz
150 g


20mm Height
(X-Low)
4.6 oz
130 g
4.6 oz
130 g








How to Determine Ring Height